When you have kids, is there ever a day where you just get to rest? I have been running non-stop today. From one end of the city to the other. Whew. I just need a minute to catch my breath. My poor green shoes almost melted off my feet. Yes, it is that hot today! And, by the way, my 6 y.o. took the picture of the shoes. She loves photography and always gets some interesting shots. LOL.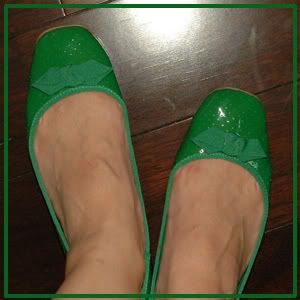 Why am I writin on my blog instead of resting? This is restful to me. I love to write (have I ever told you I have a Journalism degree?) Yes, I'm full of all kinds of surprises. Writing is a skill that can get a little rusty if you don't practice. And I am definitely rusty. Like the tinman in the Wizard of Oz. I need a lot of oil. In fact, maybe I shouldn't have mentioned the Journalism degree. Now, I'm going to be getting comments about my spelling and grammar. LOL. Don't waste your key strokes, I already know.
On the business front, I am sewing my very last sample piece for Fall 2008! It will be in the mail, on the way to a sweet little model any day now. Then, I will need to focus all my efforts on MARKETING! I'm not very good at the hard sell, or the soft sell for that matter. But, I'm going to have to buckle down and really focus on getting my line out there.
I've decided not to sell wholesale at this time. I'm going to be focusing on my online sales as well as doing trunk shows. I LOVE doing trunk shows. You get to interact with your customers and get real time feedback on your designs. Sometimes it isn't always easy to hear the constructive critism, but it is always helpful. On the flip side, hearing a customer swoon over your designs can inflate your ego for days, even weeks.
So, if you know anyone in the Las Vegas or surrounding area that wants to host a Molly O trunk show, send them my way! If you know anyone that may want to become a Molly O Stylist (aka sales rep) and host their own trunk shows any where in the U.S. send them my way too! Our goal is to build a sales force nationally over the next two years. Marketing, marketing, marketing (good thing my major was Journalsim and Public Relations, I'm going to be putting it to good use!).
O-kay, who wants to see a cutie pie?! Look at this little sweetie in a Molly O original.
I love the pictures, keep them coming!!!
Got to run again! I'm late for another appointment. Run, run, run.