Can you believe the school year is already over?! I don't know where the time went. But I do know that I am frantically putting the finishing touches on my fall 2008 line! Can you believe that I'm thinking about fall clothes in June? Well I actually started designing, looking for fabric and creating back in February! The back to school shopping season is just around the corner. So my samples are heading off to my manufacturer in Los Angeles so they can make it back in time for the Fall Molly O Trunk Shows. More to come on when and where our boutique pieces will be available.
But in the meantime, we are still thinking warm, relaxing summer thoughts! That is until the peace is interrupted by 3 screaming children who are already bored after being home for one day. LOL. Scream they may, but you can still make sure they look adorable when you venture out to summer parties and on vacation.
Take a peak at these fun and whimsical summer hair clips. Available in Little Kitty, Mr. Snail, My Frog the Prince, Little Miss Piggy and Summer Watermelon! What a cute way to make your princess look cute and put together even if she is just hopping out of the pool.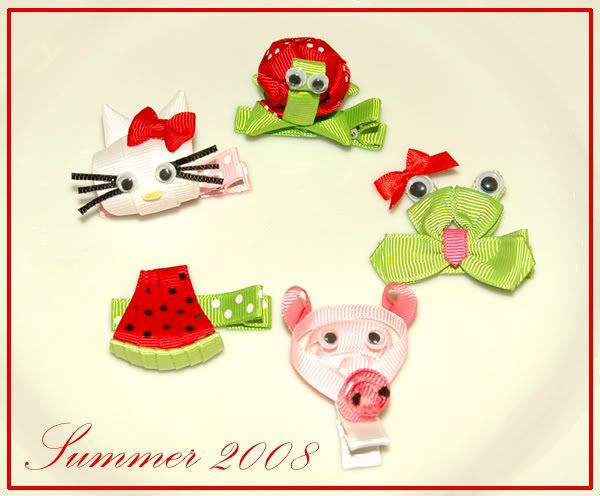 Just to kick off the summer the right way,
I'm offering all 5 clips for FREE to one lucky winner.
All you have to do is tell your friends about Molly O Designs and send them to our blog! Post a comment that you were here along with who you invited and you will be entered to win. The contest ends Friday June 13th. See I just made Friday the 13th Lucky! So start entering!!!